Welcome
Welcome to Flying S Herefords Texas Line One Registered Horned Hereford Breeders!
The Flying S Herefords Ranch is located in Paluxy, Texas southwest of Fort Worth. Our Mission at Flying S Herefords is to produce elite Line One Horned Herefords. Over the past years we have invested in the top bloodlines of the finest Line One Herefords in America from Holden Herefords and Cooper Herefords. Our focus is on every aspect of the Hereford breed.
At Flying S Herefords we breed cattle that have...
Pigment
Calving Ease
Good Udders
Fleshing Ability
Fertility
Low Birth Weights
Higher Weaning Weights
Higher Yearling Weights
Performance
Think Line One, Think Flying S Herefords! Thank you for visiting our website.  If you are ever around the area please stop by.
LATESTNews...

Flying S Herefords 
Fourth Annual
Line One Production Sale
Tuesday, March 20, 2018
12 noon at the Ranch, Paluxy, Texas
Click Here For Videos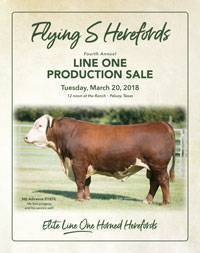 CLICK HERE TO VIEW CATALOG

Selling:
50 POWERFUL, READY- FOR- SERVICE HERD BULLS
30 ELITE LINE ONE FEMALES
INCLUDING
SPRING OPEN YEARLING HEIFER
FALL BRED HEIFERS
FALL 3-IN-1s HEIFER CALF PAIRS
FALL BRED COWS
SUCCESSFUL DONORS

Pictures of sale offering and other information regarding the sale will be posted soon.
If you would like to receive a catalog and be added to our mailing list please fill out the info box on our contact us page.